The historic center of Florence is just about two miles in size, but throughout the year, this area is host to approximately 10.2 million visitors, all navigating the same narrow lanes and visiting the same handful of sites.
When I set up residence for a month last May, I thought I was sneaking into the city before high season… but as I realized on my own and which was confirmed by many a resident, every season is high season in Florence.
While I still battled the crowds to cross the Ponte Vecchio and say hi to the Duomo every day, I also sought out spots that provided not just history and beauty, but also a little more space and peace. In this guide, I have included official website links wherever possible, but I highly recommend that you confirm visitor hours and information directly. It is Italy, after all. 🙂
P.S.: The Uffizi Gallery is closed on Mondays, and while I don't recommend skipping the Uffizi, Mondays seem to make for a quieter Piazza Signoria/Palazzo Vecchio experience.
---
Museums
National Museum of the Bargello 
Housed in Palazzo del Podestà, the oldest public building in Florence, this space was a government building (before Palazzo Vecchio came along) and served as a prision during the 18th century. Just one street off of the busy Piazza della Signoria, In 1865 the Bargello became Italy's first national museum, and today, it is an archetectural beauty, housing early sculptures by Michelangelo and Donatello's famous bronze statue of David. You will also find a large collection of medieval-era jewelry, pottery and artwork.
I would not miss the opportunity to visit the Bargello, even if you only have a short amount of time!
Visitor Information; Photo Credit
Galileo Museum
Galileo's telescope is here (!). This museum is a must-see if you are traveling with kids or for your favorite science/astronomy buff. Between the Arno River and the Uffizi Gallery, the Galileo Museum is an absolute treasure trove.  
Palazzo Davanzati
Just a couple of streets away from the vendors of Mercato Nuovo is Palazzo Davanzati, a beautifully preserved example of how the upper class families lived during Renaissance Florence. It's a calm oasis in a busy part of town, but only open in the mornings so plan accordingly.
Visitor Information  Photo Credit: Carlos Espejo/Flickr
Palazzo Vecchio — at night
During the daytime, Palazzo Vecchio and its Piazza della Signoria are arguably one of the most crowded places in Florence. But I was overjoyed to find that summer hours kept Palazzo Vecchio open well into the night. Not only was it very quiet, it was especially magical. Instead of sharing the many hallways and rooms with other visitors, instead I felt the whispers of early Florence, 700 years in the making.
Visitor Information; Photo Credit
The Stibbert Museum
Not gonna lie, the Stibbert Museum was not the most convenient to visit…but highly worth the effort. If you are traveling with kids, si prega (I beg you) — do not miss this one! (Want to know why? Read my quick post here).
To have the best experience: 1. Call ahead to book your reservation (not too much advance time needed), as the museum can only be seen through a guided docent; 2. Know your transportation options both ways! We had trouble getting a cab back into town, even using the TaxiApp which is easy in the city center. I recommend that you know the return options for the bus. 3. Rest assured, there is a bar/cafe on property with light fare.
---
Churches
I have professed my love of Florence's churches here and here, but here are my top picks for the quieter ones. While I love all these spiritual spots, I have listed them in my personal order of preference, based on history/beauty and calm.
San Miniato al Monte
Perched on a hill near Piazzale Michelangelo with a gorgeous panorama of Florence, San Miniato al Monte is an absolute refuge. It's the place I channel when I'm desparate for some calm. Even now at my keyboard six thousand miles away, I can feel the peace of the cool, stone walls and the softly-lit interior. The church dates from 1013, and since the late 1300s has housed and Olivetan monastery. Frommer's calls it "the most spiritual of Florentine churches is one of the city's truly ancient places." Please go there, and when you do, say a little prayer for me!
Visitor Information;  Photo Credit
Orsanmichele 
Orsanmichele is a treasure of Florence hidden in plain sight, right on Via Calzaiuoli, the pedestrian-only street linking the Ponte Vecchio and the Duomo. Even if you only have time for a quick pop-in while strolling from one of these places to the next, I recommend taking the time to see Orsanmichele. The original structure was built in 1337, and Orsanmichele began its life as the granary of the republic (look for the grain chutes when you venture inside!). By the end of that century, the structure was consecrated as a Christian church and represented Florence's numerous and most powerful guilds, the originals which can be seen on the second floor during limited viewing times.
Visitor Information; Photo Credit
Santa Maria Novella
This Gothic-Renaissance style church is the largest of the Dominican churches in Florence. Construction began in 1279 and it was consecrated in 1420, timing which was perfect for some of the Renaissance masters to be commissioned for the interior.
Look for works by Botticelli, Bronzino, Brunelleschi, Ghiberti, Lippi, Uccello, Vasari. Masaccio's Holy Trinity, is considered one of the finest early Renaissance examples of utilizing a vanishing point in a two-dimensional work to create the feeling of a three-dimensional space. In the Tornabuoni Chapel, Domenico Ghirlandaio and his team completed the frescoes, which included his young apprentice, Michelangelo Buonarroti.
Dante & Beatrice's Church
In the narrow cobbled streets just off Via del Corso in Dante's borgo sits Santa Marherita dei Cerchi, an unassuming stone church tucked neatly into the facade of ancient buildings. Some accounts say it is here, in this tiny and shadowed church, where Dante first laid eyes on his muse Beatrice Portinari.
While there is no website to connect you with, here's a Google Maps link to help you find it. If you are at Casa di Dante, you are very close.
Brancacci Chapel
Need a destination once you've crossed over the Ponte Vecchio and into the Oltrarno district? After you grab a gelato at da Angelo's (featured next in this post) and spent some time in Piazza Santo Spirito, make your way to Santa Maria del Carmine to see the Brancacci Chapel. Here you will find more works by Masaccio. The young artist created a cycle of the life of Saint Peter, patron saint of the Brancacci family, earning the chapel the nickname the "Sistine chapel of the early Renaissance."
Visitor Information; Photo Credit
---
Bars and Eateries
Da Angelo Gelateria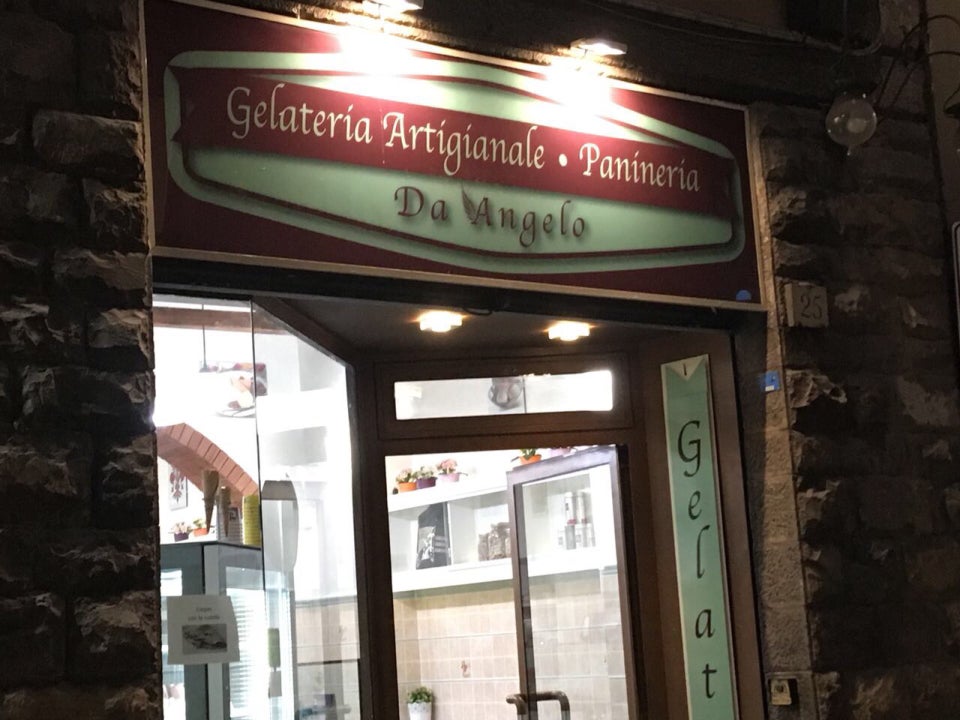 This spot has my vote for the best gelato in town! Hand-crafted, artisinal gelato, worth crossing the Ponte Vecchio for. Da Angelo Website; Photo Credit
Culinaria Bistro
A newer player in town in an authentic, locals-only neighborhood. Culinaria features locally-sourced ingredients in a cozy dining room with both modern and vintage charm. Culinaria Website; Photo Credit
Hotel Pitti Palace Rooftop Wine bar & Restaurant
Good wine and tasty bites with a perfect view, day or night. Hotel Pitti Palace; Photo Credit
Last, for a true, quick escape from town, hope on the #7 bus from Piazza San Marco to Fiesole (more details coming soon!). It's the picturesque little town in the hills overlooking Florence, complete with a monastery, cathedral and Roman ruins.
---
Interested in more on Florence? Browse all posts in the Prayers and Piazzas archives here.