"New York, San Diego and Cleveland are just three of the top ten cities that have the most beautiful Little Italys in the world, attracting people who love and share our passion for the Italian culture and traditions." — Francesco Salvatore Cagnazzo, La Gazetta Italiana
I am thrilled to have a top-ranked Little Italy close to home. It's a lovely spot for a passeggiata, especially on those days where actual Italy feels so far away.
With 120 acres spanning 48 square blocks in Downtown San Diego, it is the largest in the U.S., according to the local Little Italy Association.
It comes complete with shops, delicious restaurants, a couple of Italian markets and even groups of older men gathered at tables chatting in italiano — molto autentico!
But the highlight for me is Our Lady of the Rosary Church, which was blessed on Christmas Eve, 1923.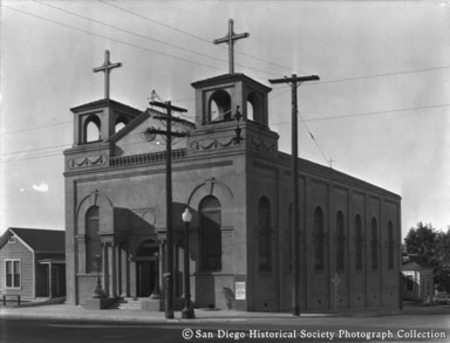 On the first Sunday of the month, mass is celebrated in Italian (noon), and on the second Sundays Latin Mass with Gregorian Chant is celebrated at 4:00 pm.
Appropriately housed on the church grounds is the Italian Cultural Center of San Diego, a fantastic resource for those in pursuit of la bella lingua!
---
Image Credits: Historic Church Exterior, Modern Exterior. All others my own.